POSITION: Associate, Consulting
BORN: Silver Spring, Maryland
FAVORITE TEAM: Redskins
FAVORITE SPORT: Football (Played at Stevenson University)
HOBBIES:

Working out (Editor's Note - Read: Picking things up and putting them down)
Madden/NBA 2K
Quality time with friends.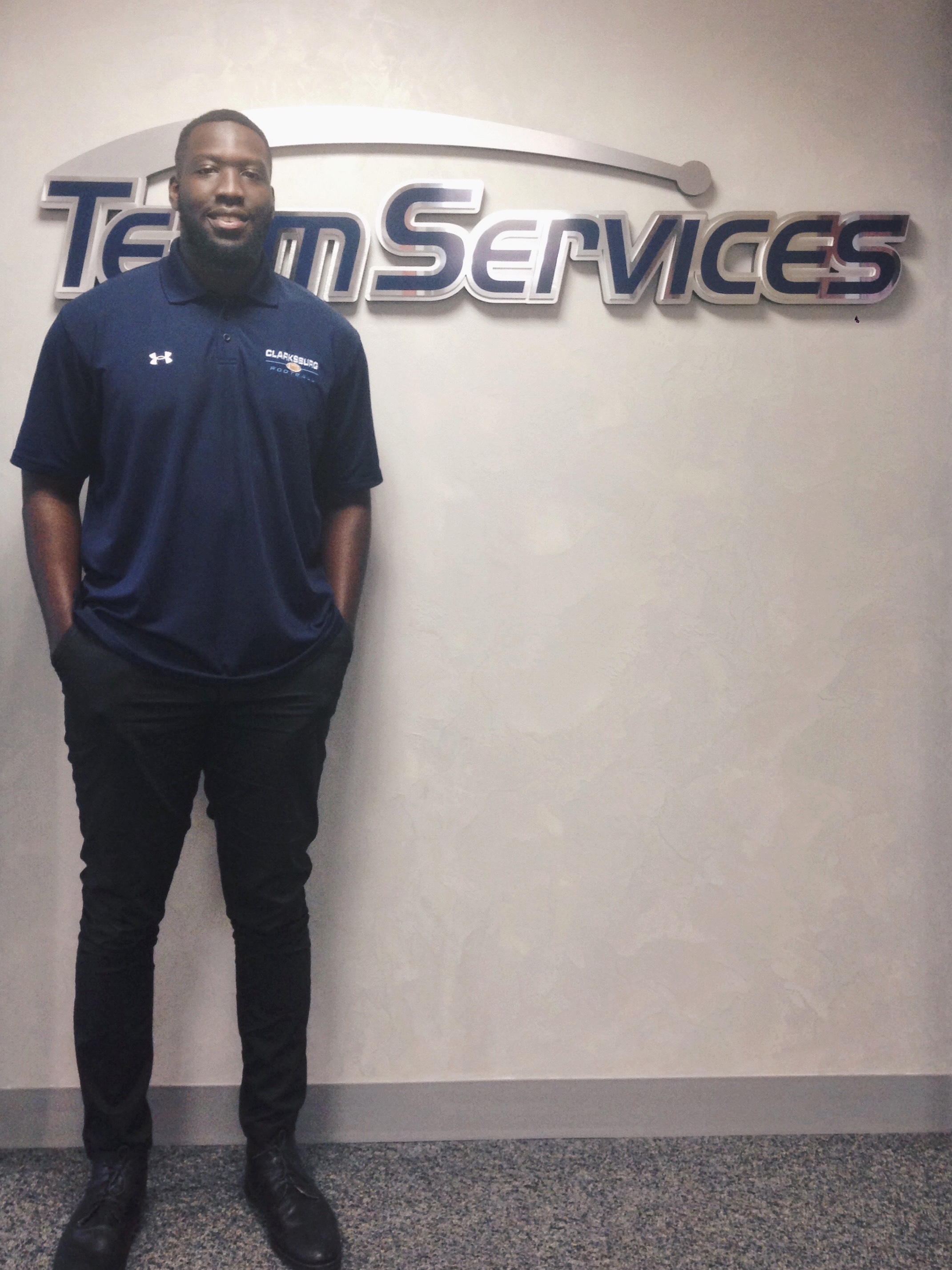 I have been here at Team Services since March 2017, and I love it. I received my undergraduate degree from Stevenson University in Business Administration while playing defensive end for the university's football team. I am now completing my Masters degree at Georgetown University in Sports Industry Management.
I was introduced to the world of sports at the age of nine and have been in love ever since. I am beyond thankful that I am able to continue living in the sports world through Team Services on a daily basis. Outside of the office, I love to workout, hang out with friends, and when invited, speak with different high school sports teams around the Montgomery county area on behalf of the FCA.
Most recently, I have spoken at Gaithersburg High School, Watkins Mill High School, and Northwest High School. I share my journey of being an athlete both in high school and college, of understanding what your role as an athlete really is, and helping students understand how to use their platform as an athlete in a positive, uplifting light.
I intern on the consulting side of Team Services. On behalf of our client, Dairy Management Inc (DMI), I work alongside Cory Keslow, Consulting Manager, and handle all NFL player related items for the Fuel Up To Play 60 program. The Fuel Up to Play 60 program is the nation's largest in-school wellness and physical activity program launched by the National Dairy Council, or NDC, and NFL, in collaboration with the U.S. Department of Agriculture, which inspires students to take charge in making small, everyday changes at school. As DMI's sports marketing agency, Team Services strategically negotiates and activates DMI's partnership with the NFL, 32 NFL teams, and its NFL player ambassadors.
What I love most about working as a consultant on this account is being able to interact with the NFL player agents as well as our dairy council clients on a day to day basis. I also love being able to provide recommendations to our clients on how to best use their NFL assets specifically as it relates to NFL player activations.
What drew me to an internship with Team Services was the culture and family environment. This is a company that truly wants to give you an experience that will prepare you for your desired career. Not only did Team Services ask me what I wanted to do in the long run, but they also positioned me to gain experience that will fuel my career goals.
I am currently working on finalizing photoshoot dates and times for our twenty (20) new Fuel Up to Play 60 player ambassadors. Along with photoshoots, a lot of my focus has been on booking both active and alumni NFL players for all of the upcoming Fuel Up to Play 60 Kickoff events around the country.
Tips/Things I learned while interning:
Pay attention to detail
Writing is ESSENTIAL
Lead up/Ask questions